In this installment we will cover the second week of working on the new wheelchair. We work on 3-D printing parts for the joystick and waiting on word from the wheelchair people about my programming glitch.
That's Why They Call It Immediate Care
After taking off for the weekend and not working on the wheelchair I was anxious to get back to work on it first thing Monday April 4. I was also hopeful I would hear from my wheelchair technician about my technical problems. Unfortunately my body had different plans. I woke up about 3 AM Monday morning with a very nasty earache. While I had been eating my bedtime snack Sunday night consisting of chewy chocolate chip cookies and a bottle of chocolate Ensure, I think I swallowed funny and some of the liquid went up the tubes that connect the back of your throat to your inner ear. I normally have tinnitus which is a ringing in your ear and it is normally equal in both ears and at a level that doesn't really bother me. But when I woke up my left ear was ringing very loudly and hurt terribly. It was like there was a lot of pressure built up. I tried swallowing and yawning to clear the pressure and it felt like the tube was clicking open but it also felt very irritated and it didn't relieve the pressure. I called dad and had him roll me over in bed and took some liquid Tylenol. I told him that we would call the ear doctor first thing in the morning and try to get me an appointment. If I wasn't successful I warned him I might have to go to the ER. It was definitely the worst earache I'd ever had.
Dad came back in about 8:30 AM to see if I still wanted to call the doctor. The pain had subsided considerably and although there was still ringing more than usual it wasn't excessive. I told him we would wait and see how I was when I got dressed. My caregiver arrived as usual about 10 AM and began giving me my bed bath. When she washed my ears there was blood in my right ear. That was strange because I had no symptoms in the right ear… only left one. When she washed the left one there was some white gunk coming out of that one.
I decided I needed to see a doctor after all even though the pain and pressure was much less. My ear, nose, and throat doctor has the strange name of Dr. Youkillus and is pronounced you-kill-us just like it's spelled. Every time I say his name I think of the ventriloquist Jeff Dunham and his character "Achmed the Dead Terrorist" whose catchphrase is "I kill you!". Fortunately the doctor is a really nice guy and I feel safe with him. Anyway he was off duty that day and all of his partners were busy. The soonest I could get into see someone would be Tuesday afternoon. After I got up and dressed I decided I didn't want to wait that long to have someone look at the ear and get me started on antibiotic. I made the decision we would go to either the ER or an immediate care center.
Dad said there was a new immediate care center on Main Street in Speedway so I decided we would try it out. Because we didn't have tiedowns for the van I would have to use the old chair for the day. We got in and out of the immediate care fairly quickly. I saw a nurse practitioner who said I definitely had something going on in the left ear but it didn't look like I had broken my eardrum and the wax wasn't too bad. I never did figure out what was wrong with the right ear. She gave me a prescription for an antibiotic.
When I checked my email on Monday I did have a reply from Patrick the wheelchair guy saying that he would be in touch with his technical support people and try to get a solution for my inoperative joystick. About the only other event of the day was I ended up losing the bid on eBay for the wheelchair programmer I had been bidding on all weekend.
Finding Tolerance
On Tuesday I began working on 3-D printing parts for the joystick mount.
When designing shapes for 3-D printing, many times you really don't care the precise measurements of an object. But when parts have to fit together especially with non-3-D printed objects you need to take careful measurements and create your parts to fit precisely. Even though in 3-D printer might be accurate to within a few hundredths of a millimeter, by the time the plastic squeezes out of the nozzle and hardens into position the objects tend to be slightly larger than the advertised size. That also means that any hole in a 3-D printed object is going to be smaller than you intended it because the plastic intrudes into the hole. The tolerances on each kind of 3-D printer, the plastic you are using, the temperature of the nozzle, and even the print speed can affect the tolerances of the finished product. Because I was going to be making parts that needed to slide up and down on the stainless steel rods, I needed to print some test parts to see what diameter hole would give me a snug fit.
The CAD programs that you use for designing pieces to be 3-D printed have the option to do measurements in inches or millimeters. Because most 3-D printers work in millimeters we set things up in metric mode. Each layer of plastic is about 0.2 mm thick. The nozzle that extrudes the plastic is 0.4 mm wide. The stainless steel rod that we were going to hang around my neck to hold the joystick is precisely 1/4 inch in diameter. Converted to metric that is 6.35 mm. The image below shows the CAD drawing of my test piece.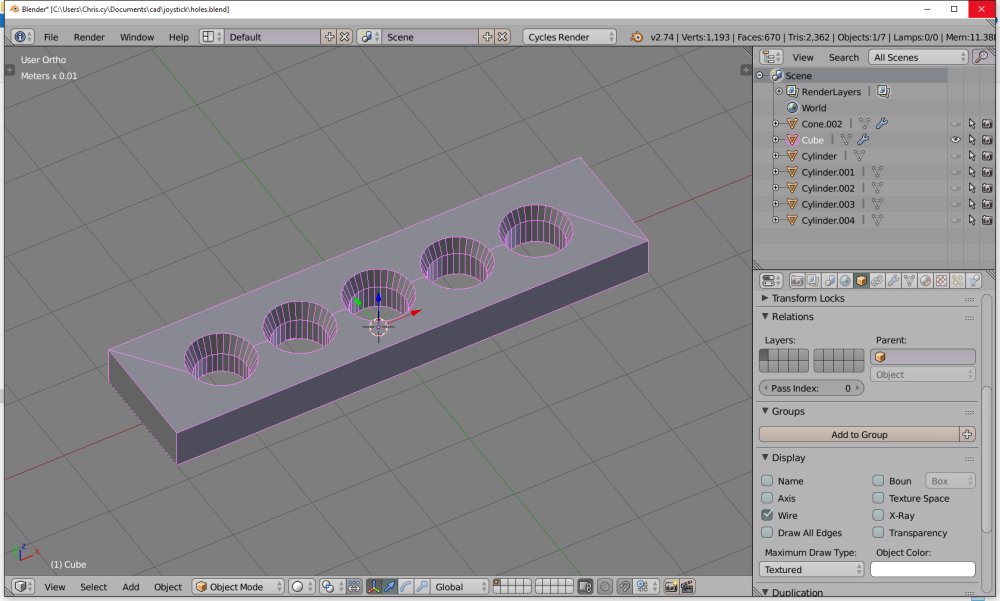 The hole in the left is exactly 6.35 mm and each hole extending to the right is a few tenths of a millimeter larger. I put a tapered section like a counter sink on each hole so that it would be easier to get the rod started going thru the hole. After printing the piece we determined that the one on the far right which was 6.8 mm in diameter was a nice snug fit. This is a pretty typical fudge factor in my experience at least on my printer. I sort of wonder if it has to do with the fact that my nozzle is 0.4 mm in diameter. Perhaps the software is measuring from the center of the nozzle on one side of the part to the center of the nozzle on the other side of the part. But the actual part comes at 0.2 mm bigger on each side because of the radius of the nozzle. I would think the slicing software could compensate for this. Maybe it has nothing at all to do with the nozzle diameter. Maybe it's just the way the plastic oozes out.
Dad and I spent some more time bending the stainless steel rod to get it to fit better around my neck. He also worked on some final adjustments to lower my right foot rest. On Tuesday I also got another email from Patrick saying that he was working on my problem but still hadn't heard back from his people. At least he was staying in touch day by day. Many times while corresponding with him about ordering the equipment he wasn't at all prompt about answering his emails.
Inventing the Slider
On Wednesday the 6th I continued designing 3-D parts. The metal rod of the bib is an upside down U-shaped rod that hangs around my neck. We needed to create 3-D printed parts that would connect the two ends of the "U" with a crossbar to which we will eventually mount the rest of the joystick holder. That crossbar will pivot on the right side and we need a latch to fasten it on the left side. A small sliding piece will latch it into place as you can see in these CAD drawings. The first one shows the crossbar in the closed position. You can click on images for larger versions.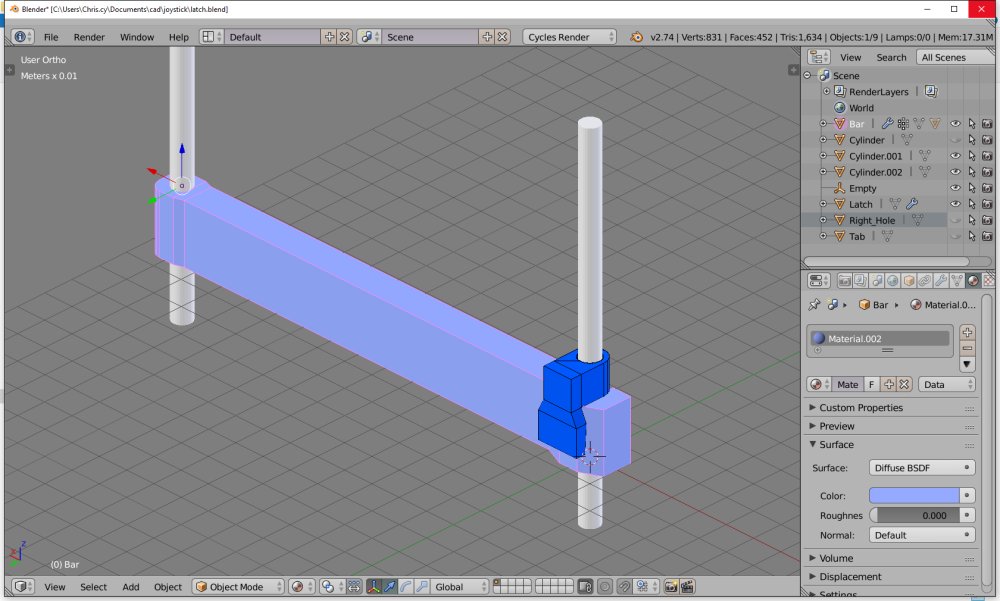 This one shows the sliding latch in the raised position.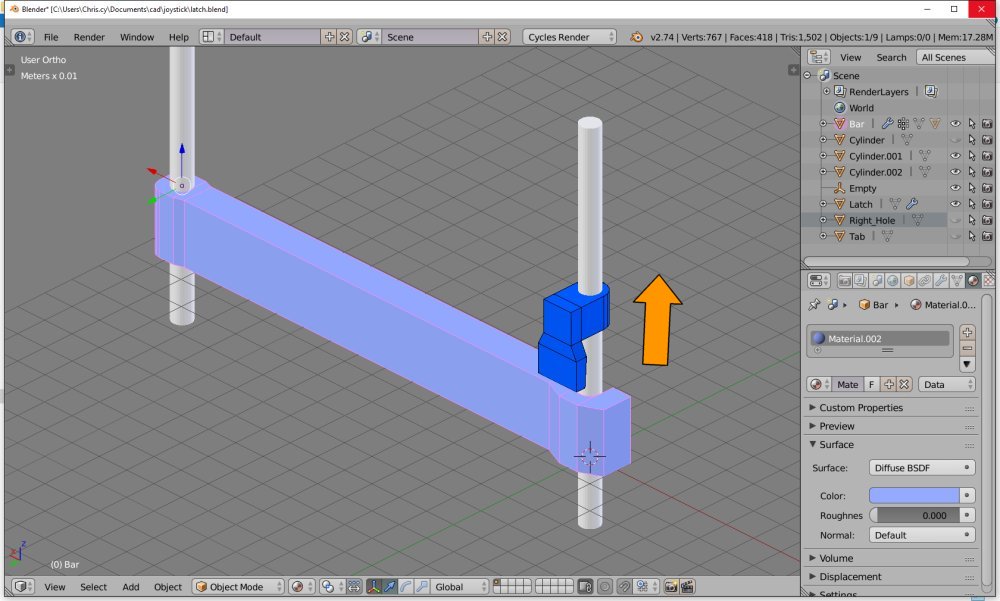 In the final image you can see the crossbar rotated out of the way. This allows me to easily take the bib off and on my neck.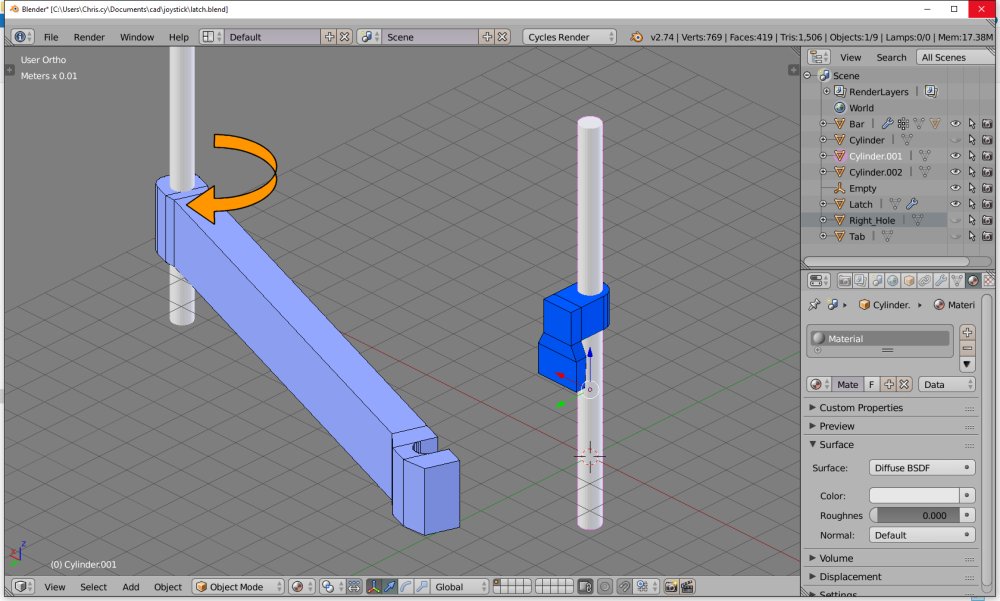 It took two or three attempts to design that little sliding piece. Printing tiny pieces on a 3-D printer is in many ways more challenging than printing large ones. To successfully print a piece, it needs to stick to the build plate firmly. Small pieces don't have much surface area on the bottom. Also the plastic from one layer needs to cool down before the next layer is extruded onto it. For most reasonably sized pieces by the time it finishes printing one layer the first part of that layer has cooled sufficiently that you could put another one down. But because small pieces print so quickly the plastic needs time to cool. If the previous layer has not cooled, the entire object tends to sag or bulge. Fortunately the printing software has a parameter that you can set the minimum amount of time for a layer to print. It will slow down the printing or even retract the printhead and pause for several seconds if necessary to wait for the plastic to cool.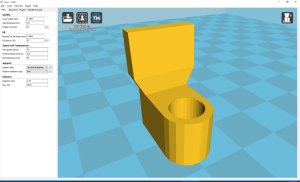 You also have to orient the part on the build plate so there is a flat surface at the bottom. The sliding piece as shown in the CAD diagrams has a pointy tab at the bottom so you have to turn the piece upside down to get it to print on a flat surface. When I loaded the part into the printer software and rotated it to the proper position, much to my surprise my little tab slider looks like a toilet. I suppose it's appropriate that a piece called a "slider" should remind you of a toilet since if you eat too many White Castle sliders that's where you end up.
On Thursday, I worked on the piece that would mount on to the crossbar that would hold the remainder of the joystick mount. I also wanted it to be able to slide left or right along the length of the crossbar because I wasn't exactly sure where it would go. I wanted it to be a tight fit but still able to move if I wanted it to. If it came out too loose I had plans to put a set screw in it that could be loosened or tightened to reposition it. The two pieces shown in the image below will wraparound crossbar and fastened together with a couple of #4-40 machine screws.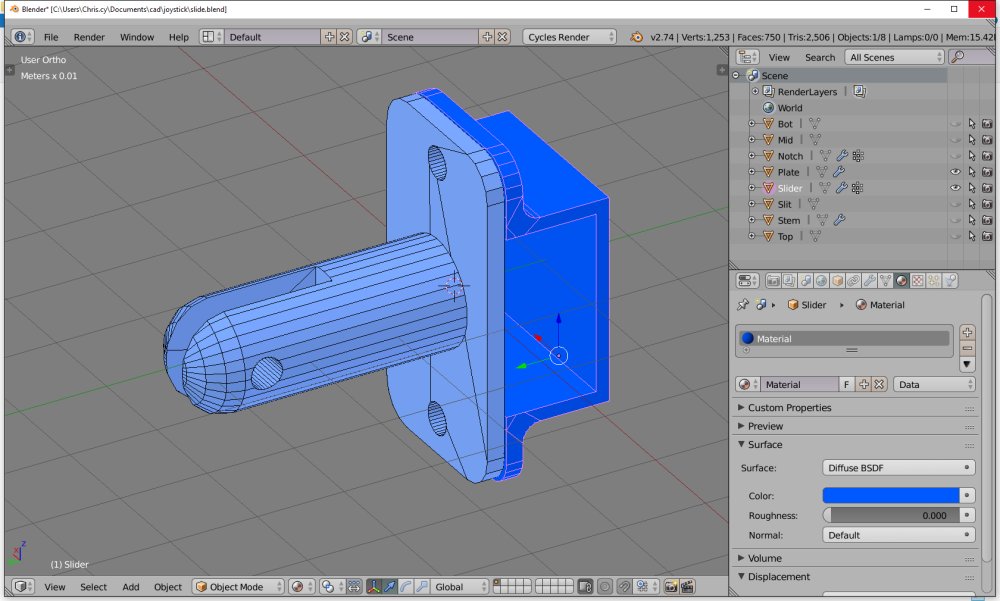 This is the final version after making some minor tweaks to an original design. We managed to get the fit just right and I had to make some extra room on the flange for the screws to fit. The original was a little tight.
"Who You Gonna Call?"
I didn't hear anything back from the wheelchair guy on Wednesday so I sent him another email on Thursday. He replied and said he had been out of the office Wednesday on some personal matters but would be at his desk all day and would definitely be able to get in touch with his supplier's tech people. When I checked my email on Friday April 8, I had three emails from him with attachments. I couldn't wait to see what he had sent me.
It was three pages full of information that someday I would find very useful. One was a procedure for resetting things to the factory defaults. The people on the wheelchair support group that I was reading online had said a factory reset was not advisable but this technical note from the manufacturer said it was specifically for people who wanted to undo something that they had inadvertently changed. The tone was that it was safe to use. The other two pages consisted of a map of all of the menu options in programming mode. It told you which features were in which submenu. That would make it easy to figure out where you needed to go when changing the settings. When I was playing with it before, I had to keep browsing around to find what I was looking for. So this would be very useful information… someday.
But today it was totally useless. Everything he had sent me told me what to do once I was in programming mode. It totally ignored the fact that my major problem was I could no longer get into programming mode. I had waited an entire week for a response only to see that despite the fact I had described in detail my problems including the fact that I could not initiate programming mode, his reply indicated he was totally clueless as to the nature of my problem. It was like he hadn't read the email.
To describe this situation as a pet peeve of mine is a gross understatement. I really can't think of anything that pisses me off more than asking someone a technical question and getting an answer that proves they weren't paying attention to the question I actually asked. It has happened to me many times in online support forums and it angers me then. This time was especially rough. I specifically had sent him email rather than just a phone message so that he would have my questions right in front of him and could reread them. The timestamp on the email was 12:45 AM. Whatever work and personal issues he's been going through that forced him to take a day off Wednesday and having making up work in the middle of the night then he has my sympathy but not my patience.
I left him a very harshly worded email and phone message. But that didn't get it out of my system. It was obvious he was calling someone at Sunrise Medical who makes the Quickie Brand wheelchairs. I looked up the number for their technical support and I called them directly. The guy I spoke to was intelligent and courteous and obviously was listening to what I was saying. When I explained to him that I cannot get into programming mode he was right up front with me saying that there wasn't anything he could tell me that was going to resolve that. I would indeed need a dealer's handheld programmer or some kind of device to get it unstuck. I explained to him that the dealer I've been working with was unable to help me. I asked him what other dealers were available in the Indianapolis area. They recommended a place called NuMotion http://www.numotion.com/ They are located near 79th and Moeller Road. I thanked him and put in a call to NuMotion.
When I called them I got through to the repair department and I explained to the guy my problem. I told him I'd been working with a different dealer and that they were unable to help me. I explained I know that since I purchased the wheelchair from the other company it was their responsibility to fix it but I was fed up with their incompetence. I asked him if Medicare/Medicaid would pay for such repairs. He explained that even though I had not purchased the chair through them, unless I needed replacement parts there would be no cost. I couldn't believe they were so nice about the whole thing. Unfortunately they seem to be a busy place because the soonest Wednesday April 13th. They took some personal information about me and I thanked them. He asked me who the other company was that I had been working with. I was reluctant to badmouth them but I told him anyway. The bottom line was I would have to wait again to get service.
About an hour later NuMotion called me back. Apparently they felt bad about stealing a customer away from National Seating and Mobility. I felt bad about firing these people as well even though it is not been a very satisfying customer experience. Anyway they had called the other place and probably said something along the lines of "Hey friend… if you don't take better care of your customers they're going to keep coming to us". At any rate they said that National Seating would be calling me within the hour and if I didn't hear from them I should call National Seating. I can understand that they didn't want to step on anyone's toes. And I didn't want them to have to. I just wanted the damn thing fixed as quickly as possible.
Shortly after that phone call I got an email from my guy saying "I got your message". I don't know if he meant the nasty email, the nasty voicemail, or the message that was figuratively sent when I called his competition :-). At any rate he said he would try to get me someone who had the right kind of programming gadget.
Shortly after the email from my usual guy, I did get a phone call from someone at the National Seating and Mobility office. I didn't catch his name but I later learned he was the office manager. After explaining the problem he said something to the effect of "When can you bring the chair in for us to look at?" I almost hung up on him right there. Everything that I had been told by the other technicians when I asked about repairs was that they always come to the client. You never need to bring anything in. The bottom line was this was Friday. I could bring the chair to him Monday morning and he said he would have people at the office who could work on it. If I wanted them to come to me I would have to wait until Thursday April 14th. I explained I wasn't sure if I could come on Monday. I wanted to go ahead and schedule the Thursday afternoon appointment for them to come to me and then if I could come on Monday we would cancel it. He said if you can't come on Monday, just call us and we will schedule something at that time. He didn't want to hold open the Thursday appointment for me. That turned out to be a mistake.
Another Break in the Action
I had been on such an emotional roller coaster on Friday that I couldn't wrap my head around working on the joystick mount or anything else related to the wheelchair. I needed a different project to distract me.
I had a raspberry pi model 2 sitting in its box unopened. I had been swapping some emails with my friend Buz about using the raspberry pi as a media player. I was going to replace the model 1 that I had connected to it the TV on my kitchen counter. I would get the new model 2 and I would give Buz my old hand-me-down model 1. He did not have an HDTV and the model 1 works better with old analog TVs then the new model 2. So I spent the rest of the day Friday trying to load OSMC media player software onto the new raspberry pi. Apparently the Wi-Fi dongle that I was using wasn't fully compatible with the newer model. It took me all afternoon to get the Wi-Fi working. I had hoped that playing with my other toys would reduce my frustration level but it turned out to just replace one frustration with a different one.
I finally got rid of all my stress on Saturday by spending the day with my friends Rich and Kathy Logan to go see "Batman vs. Superman" in IMAX 3-D. Even that wasn't without its frustrations. We normally go to the IMAX on 86th and I-465 at Traders Point. Unfortunately they have weird schedules when it comes to IMAX 3-D. The 12 noon, 6 PM, and 9 PM showings were all IMAX 3-D but the 3 PM showing that we wanted to attend was in ordinary IMAX not 3-D. We had to drive all the way to the south side to the other IMAX to see it in 3-D at a reasonable time of day. I loved the movie a lot. Better than the most recent Superman movie. Rich and I are both huge comic book fans. We were both embarrassed that we had never realized that both Clark Kent and Bruce Wayne had a mother named Martha. That was a particularly important plot point in the movie. I told Rich "If I was a cartoon character, my head would've literally exploded."
That wraps up the entire second week of working on my new wheelchair. While of the comfort adjustments had been finally completed and I was very much enjoying sitting in it, I still wasn't able to drive it. Sorry for the spoiler but yet another week after this would pass and I still couldn't drive it. That's a story for the next installment.