I couldn't help myself. As a birthday present to myself for my 60th birthday, I bought myself a 3-D printer. Is a Printrbot Metal Plus with a 10 x 10 x 10 build area. It will print PLA or ABS plastic. It has a heated printer bed and a 0.4 mm extruder nozzle.
The first thing you do when you set up the printer is you print a little square piece of plastic about 10 mm on the side and 3 mm thick. Look at the bottom surface of this part to see how it compares with one that was done at the factory. Unfortunately I had tinkered with some settings and did something wrong and on the first attempt to print, the printhead crashed into the print plate and started tearing up the Kapton heat resistant tape that covers the print bed. We peeled it off, salvaged part of the tape that was not damaged, and reapplied it in a strap across the middle. I ordered a new piece of tape that would cover the entire surface but it didn't get here until several days later and I didn't get around to applying it until weeks later. I got by because the objects I was printing would still fit on the smaller piece of tape.
For my first real prints, I downloaded some objects from a variety of websites such as Adafruit Learning System and Thingiverse. The first thing that I printed was a little bust of Yoda. Among the varieties of plastic I purchased was a color called slime green. I thought it would look good for Yoda. The original design would've taken over two hours to print and I want to see something quicker than that so I scaled it down and it only took a little over an hour.
Here is a YouTube video showing the print. It was posted on July 7, 2015
A few days later on July 12 at my 60th birthday party, I was showing off some of the objects I had printed. My cousin Angie told me that her little boy Jonathan was a huge Star Wars fan. I decided that he would give Yoda a good home so I gave him my inaugural 3-D printed object. Here is a photo from the party of me, Jonathan, and Yoda.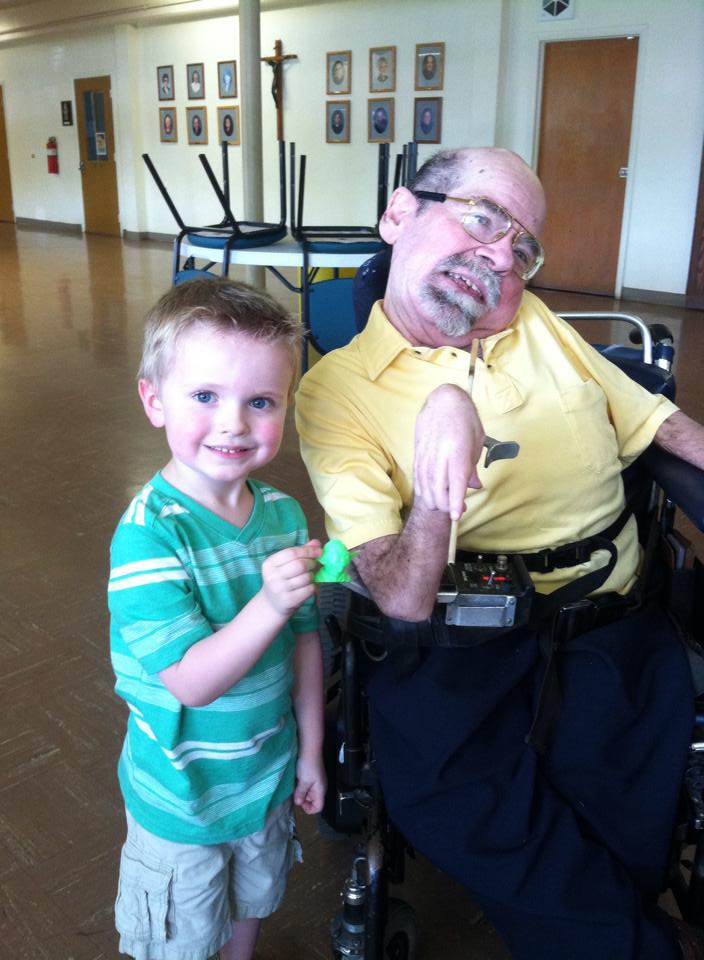 Note: although I uploaded this video on July 7, and I shared it on Facebook and Google Plus, I didn't get around to writing this blog entry until mid-September. However to keep the sequence of events straight in my blog, I have predated this to July 13 which is the first day I could've actually written it if I had done so in a timely manner.