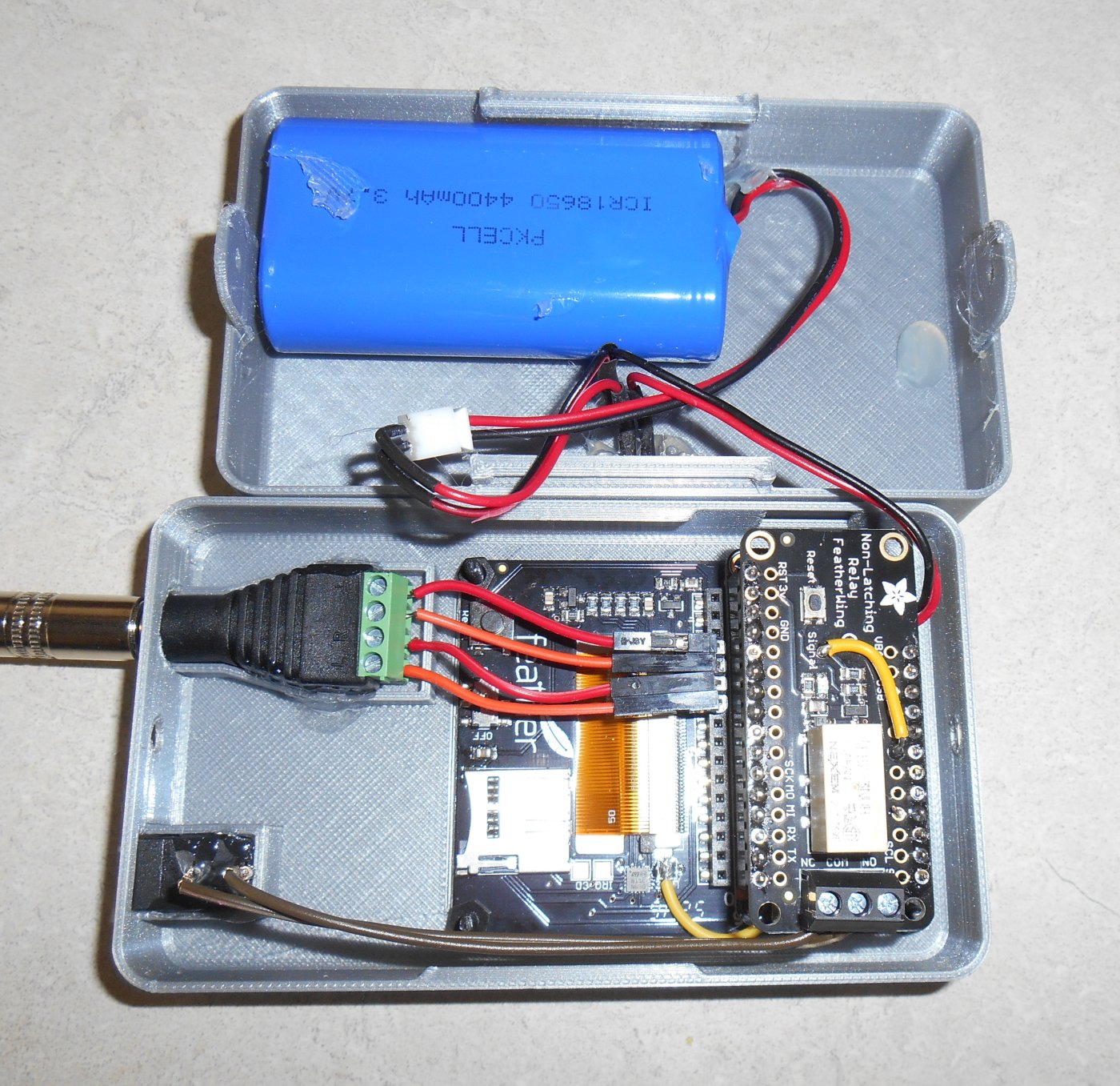 The image above is the interior of a specialized version of my Ultimate Remote. It does mouse and keyboard control for my laptop via USB plug-in. It also will do Bluetooth switch control on my iPad or iPhone. Like my other specialized remotes, there is an LCD screen and an Adafruit Feather M0 BLE. But what really makes this one special is that it includes a relay that can be connected by cable to a nurse call system at St. Vincent Hospital. The cable has a standard quarter-inch mono headphone plug on the other end that plugs into the wall in the hospital room. The white rectangular box on the right side of the image is a relay that can be triggered to call the nurse. By using a mechanical relay, it isolates my electronics completely from the hospital's nurse call system. Although the hospital has allowed me to plug a cable with a simple pushbutton on the other end into their system, I don't know if they will allow me to plug in this more advanced system. But I built it anyway just in case. The problem is, I can only handle one set of buttons at a time. Either use my Bluetooth and USB mouse and keyboard system or I can use the nurse call system. This box would allow me to do both at the same time.
The St. Vincent Hospital system is wired so that it is normally closed. When you push the call button, the circuit opens and it triggers an alarm to call the nurse. The system used to be normally open years ago. But someone realized that if you accidentally pull the cable out of the wall there's no way to know that it is disconnected. With a normally closed system if the cable gets pulled out it would trigger the alarm. This system is not used for everyday patients. Most patients use a nurse call button that is wired into the bed. The jack in the wall is only used for specialized call buttons. But because their system is normally closed, you can't just have an empty jack. Otherwise the alarm would constantly ring. They have a small "keeper" plug that sticks in the hole when the system is not in use.
Here's the problem… I recently toured a skilled nursing facility on the south side of town in Greenwood. There's a possibility that if my sister could no longer be my caregiver, I might have to go there to live at least on a temporary basis until I could find some sort of group home residential setting. I was thrilled to see that there nurse call system use the same quarter inch mono headphone jack to plug into the wall. It looked identical to the jack hole at St. Vincent with one exception.
There was no keeper plug stuck in the hole. That means that the Greenwood facility is wired "normally open". When you push the button, it closes the circuit. My standalone cable with a simple pushbutton that I've been using at St. Vincent for years as well as my newfangled box are both wired as normally closed. So I built another cable with another simple switch and wired it normally open. Now I have one of each. One for St. Vincent and one for Greenwood Healthcare. But of course I didn't want to build an entire new box for the advanced version to use in Greenwood should I need to go there.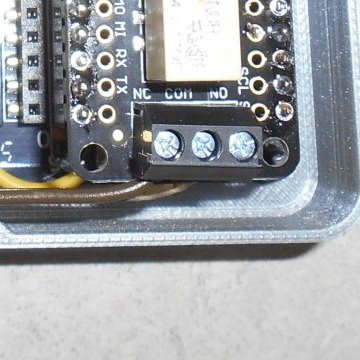 Take a closer look at the terminals connected to the relay in my box. There are three screw terminals just below the relay into which we connected 2 brown wires that run to a jack on the left side of the box. Take a moment to appreciate what a wonderful job my dad did when wiring up this box. Those two brown wires have been perfectly trimmed to the proper length. One of them goes to the left terminal which if you look closely in this image is labeled "NC" standing for "normally closed" and the center terminal is the common terminal labeled "COM". Unused on the right is a terminal labeled "NO" meaning "normally open". All I have to do to convert the system is to move the wire from the "NC" terminal to the "NO" terminal. But as you can see… Dad's perfect wiring job means that the wire is too short. We were both so proud of how clean the interior of this box turned out. Now I'm going to have to get someone to replace the wire with one that is about a half-inch longer.
Sometimes perfect wiring is wrong.