My new wheelchair has finally arrived! Before I tell you about the day that it arrived and what we have done with it so far, I want to briefly recap the journey thus far.
A Very Long Journey
On Wednesday May 27, 2015 I had my first meeting with a man named Patrick Phillips from a company named National Seating and Mobility to see about getting a new wheelchair. In both this technology blog and my personal blog I've chronicled some of the reasons why I need a new wheelchair even beyond the fact that the one I'm using is nearly 30 years old. Here is a link to a collection of blog posts about why I needed new wheelchair and some of my history of previous wheelchairs. It is been a very long and difficult process to find the kinds of specialized wheelchair controls that will allow me to continue to drive my chair myself perhaps even better than I've been able to do recently. We have had 2 different loaner wheelchairs and a variety of different specialized controls over the past 9 months. We waited for months at a time to get this demo equipment. And then there were months of paperwork, doctor's visits, therapist evaluations, and Medicare and Medicaid approvals.
When we started in May of last year I knew it was probably an impossible dream that I might have the chair in time for my 60th birthday party in July. When I saw how long everything was going to take I reset my sites on Christmas. That was just as impossible. Around Christmas and New Year's I told people that I wasn't hoping for Valentine's Day but perhaps by St. Patrick's Day. Bit by bit I started getting notices that the insurance was approved and at one point they told me the equipment had been ordered. I sent him an email on March 9 and they said that the equipment had actually arrived the day before and all they had to do was assemble the chair before delivering it to me. Patrick suggested it might be ready by that Friday. The next week another email said again by Friday.
My Holy Week Meltdown
One of the things that prompted me to finally get the new wheelchair was an incident at the Easter vigil mass a year ago. That is the night before Easter celebration where the people that I've been teaching in RCIA get baptized and receive the sacraments for the first time. The ceremony is 3 hours long so it runs late into the evening which is when my arm is the weakest and I have the most difficulty driving my chair. I have asked one of the ushers to check in with me a couple of times during the ceremony to see if I needed anything. I should've had him specifically check with me when it was time for the baptisms. Our baptismal fountain at Saint Gabriel is at the back of the church and I would have to turn around to see what was going on. When I tried to do so, my arm just would not cooperate. Fortunately none of the people in the English-speaking RCIA class that I teach were being baptized. They were being confirmed, receiving First Communion, and making a profession of faith all of which took place at the front of the church. The baptisms were for children or people attending the Spanish language RCIA classes. I still would've liked to have been able to see the ceremony. I think this was the final straw that broke the camel's back and made me decide that I really needed the new chair. As it turned out somewhere in August or September I quit driving my wheelchair and all. Even when my arm was in good shape I could not get it propped up into position to drive. Dad would have to position my hand for me before I could move. Even then sometimes I couldn't drive once I was in position. So it was easier to just have dad push me around the house. Had I known this whole process was going to take nearly a year I might have started everything much sooner.
So when Holy Week rolled around and I realized that I still did not yet have my wheelchair, I got very emotional. I wrote Patrick an extremely nasty email saying that I realized that much of the delay was not his fault. But the fact that my wheelchair had been sitting in his office collecting dust for two weeks and my emotions about Easter coming and still no wheelchair. It was just too much. Fortunately I somehow got the courage to delete the email before I sent it. Instead I want one titled "I'm out of patience" and I started out by telling him that I had written a nasty email and then deleting it. The one that I did send was only marginally civil. But I told him "If you think this is terse you should've seen the one I didn't send :-)"
The next day we received a phone call saying that the chair would be delivered on Monday March 28 which was the day after Easter. I probably wasn't going to go to the Easter vigil anyway because I've had problems with a sore shoulder that makes it difficult for me to sit in one position for a long time. And I have retired from teaching RCIA (another emotional issue complicating matters). On Good Friday I received an email from Patrick saying that he would check with the office to see when it would be delivered. Apparently he was unaware that I had received a phone call. He was apologetic and explained that the office is in transition. I wasn't sure what that meant. Transition into bankruptcy perhaps? Transition such as Bruce Jenner? At one point I was angry enough to transition someone by cutting their parts off :-). I later learned that the recent delays have surrounded the fact that National Seating and Mobility is apparently consolidating 2 Indianapolis offices into one location. I just got caught in the chaos of that move. Anyway over the Easter weekend I told people I would believe the wheelchair when I saw it.
IT'S FINALLY HERE!!
Early Monday afternoon March 28 it finally arrived.
A technician named Aaron arrived with the chair and said that Patrick was not far behind. He arrived a few minutes later. The first thing that I noticed when it came through the door was that it was all black. That was okay. I had asked for it to be blue. If you've been following my Facebook posts you notice someone asked me if I was going to have a wheelchair that was a TARDIS. That's a big blue box that sci-fi character Doctor Who uses as a time machine/spaceship. My reply was no, but it was going to be TARDIS blue in color. Although I had told Patrick that I wanted blue, I had not made a big deal about it and I was worried he had forgotten. When I saw black come through the door that was okay. Then on closer inspection I realized that the lower frame was indeed blue and I recalled that looking at it on the website when it showed color selections it was only that lower frame that was painted a different color. So I did get my TARDIS blue after all.
The next thing that I noticed was the foot rests. The first demo wheelchair that I had tried included power elevated foot rests. I wanted the entire chair to be able to power tilt and recline but I was a little bit afraid of having some machine move my legs because my knees are very sensitive and my legs do not straighten out but a few degrees beyond the normal sitting position. The second demo chair that I saw did tilt and recline but did not have power leg rests. That's what I thought I was getting. My new chair has power leg rests. I will just have to be careful with it and make sure that I don't accidentally move them. And there may in fact be times when raising or lowering the foot rest a few degrees might make my legs more comfortable. If it gets to be a problem we can always disconnect or disable them. It kind of pissed me off that Medicare/Medicaid was paying thousands of dollars for a feature I didn't particularly need or want. I had seen a parts list before it was ordered but it wasn't immediately apparent from the description that it was going to have power leg rests. I should've gone over the list with Patrick in more detail. My bad. Sorry taxpayers.
Patrick explained that when he orders a chair, he sends them all of my measurements and they are supposed to have it pre-adjusted to those dimensions. For the most part it was pre-adjusted to the right size. However one item that definitely needed some attention was the foot rests themselves. They were definitely too long and my feet would not have reached no matter what the angle was. Patrick and Aaron went to work with a variety of wrenches to shorten the adjustable leg rests. There was also a side pad where your leg goes and a back pad where your calf rests when the chair reclines. Those had to be loosened and pushed up and then push up on the foot rest to shorten it. Each of them had three or four bolts that needed undone and redone. Even when they had adjusted everything, it was still too short. For the time being we decided to put a pillow under my feet. In addition to the foot rests we also adjusted the armrest height for the left arm because I like to keep it much higher than most people would use. Again it was not able to be adjusted as high as I wanted it. We're going to get some padding to put on top of the armrest to raise it up. It also needs padding because it is a very hard surface.
Taking My Seat for the First Time
It was finally time for me to sit in my new wheelchair. Dad bought out the Hoyer lift and picked me up and set me in the new chair. I looked at the clock to memorialize the moment. My butt hit the seat at 3:12 PM, March 28 2016.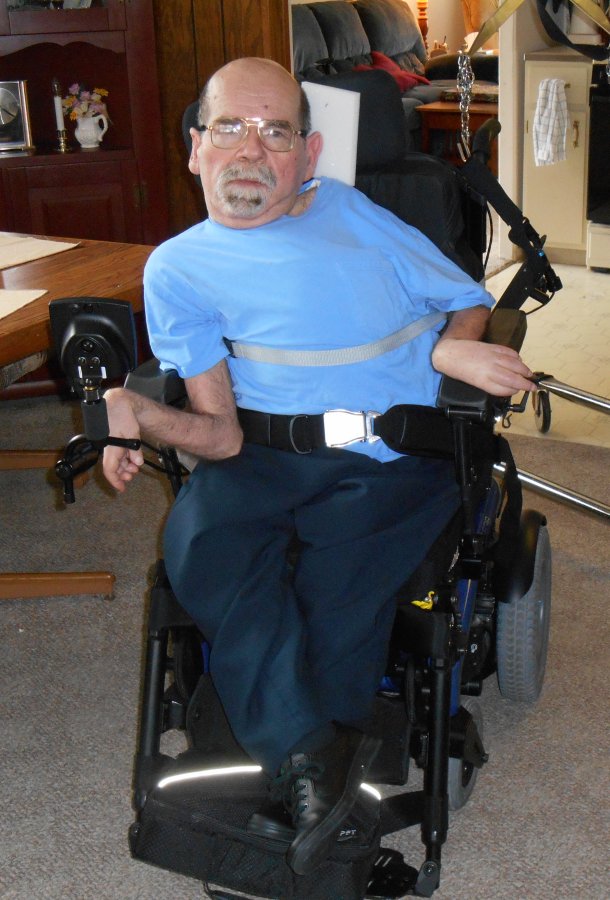 We strapped me in with the new lap belts that came with the chair. I also use a chest strap to keep it steady. We had a spare chest strap ready to go and we got that fitted around me.
We then turned our attention to the headrest. They had about three different kinds available and we finally found one that would work on a temporary basis. Dad and I are probably going to have to redesign something different at some point. The headrest I currently use was something that we built ourselves years ago. I think we will be able to take the parts they gave us and make something more permanent that will do everything I needed to do but for the time being we had my head propped up in a good enough position on a temporary basis.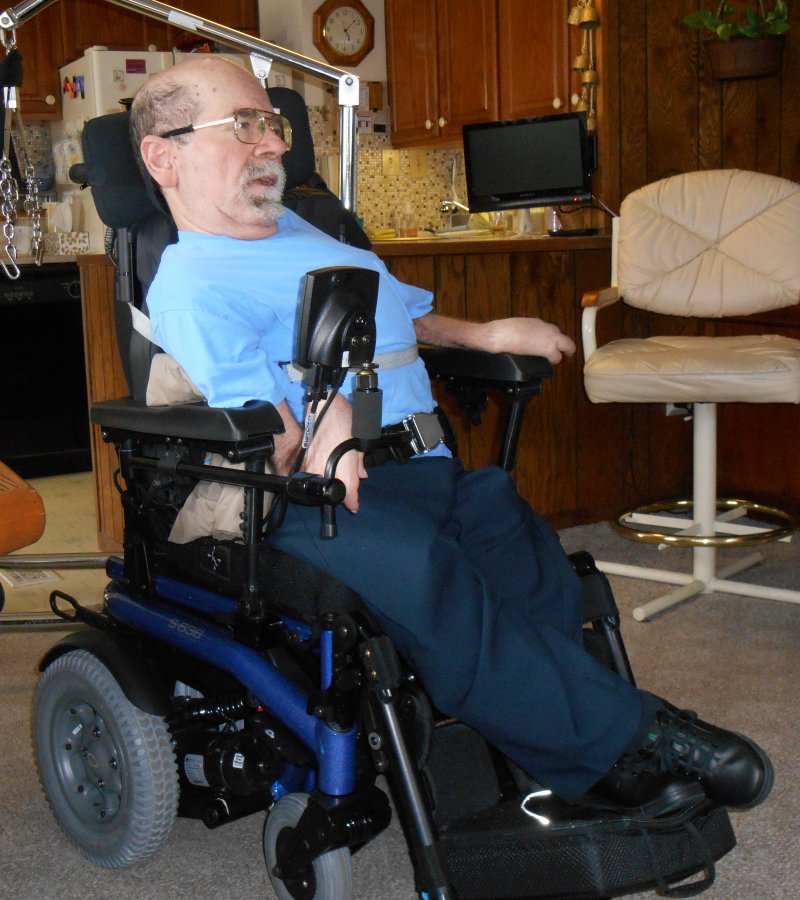 No Joy for the Joystick
We now turn to the joystick controls. I had tried a variety of different control systems. We waited for months to get a demo of one that turned out to be totally useless. The one that we finally decided on is something called a bib mount. It hangs around your neck like a bib and holds the joystick in front of your face. I then move the end of the stick by pushing it around with my lip. Some people use the same kind of mount to move the stick with their chin. These are typically spinal cord injury quadriplegics who still have movement in their neck muscles but my neck doesn't move because the muscles are too weak to even hold my head up. The photo below shows the device that I tried. This is not me in the photo.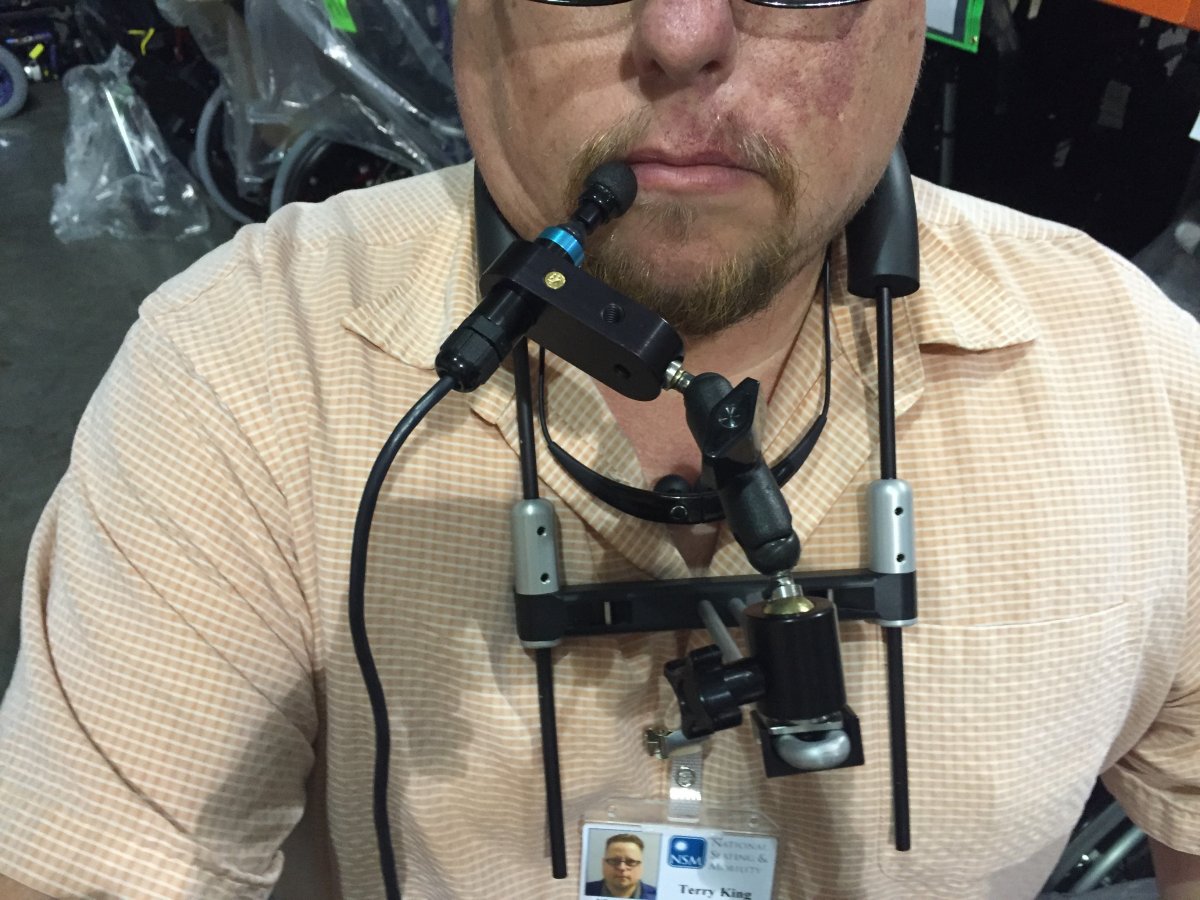 You can see a video of me test driving the demo wheelchair in this blog post. This system worked really well however it was too narrow to fit around my neck. The bar going across the bottom that actually holds the joystick can unsnap from one side and you spread the bar apart to lift it over your head. But when I tried to put it around my fat neck it wouldn't fit. We had to force it together to get the clamp to hold. Patrick told me he thought that the device came in 2 sizes and that he would order the larger size. So I was expecting to see a larger version of the same device when he arrived. Unfortunately he said that it doesn't come in a larger size after all. Instead he ordered a similar device shown here.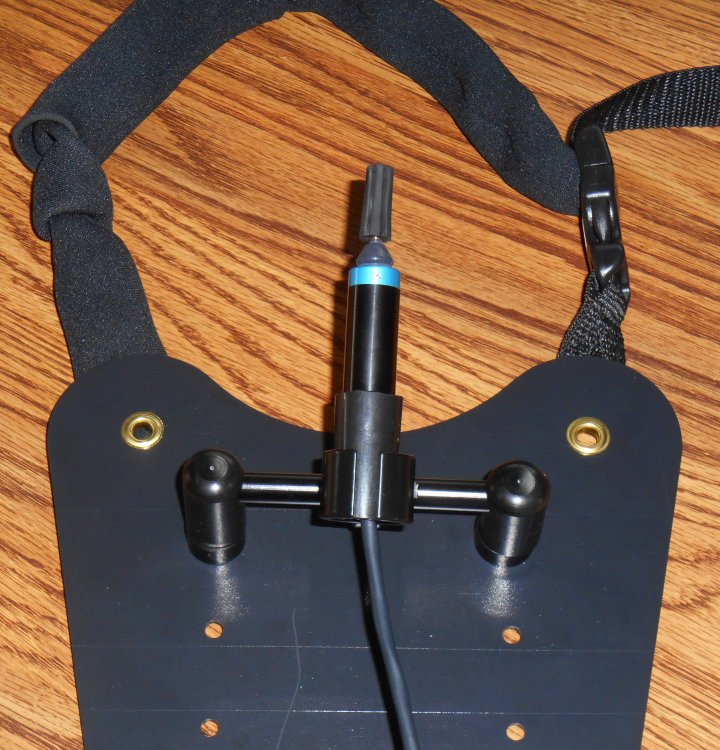 This one consists of a hard plastic plate that hangs around your neck with an adjustable strap. Because my chest has a weird shape to it because of my back brace, we were going to have to bend the plate to fit the contour of my chest better. The instructions say that you can heated up with a heat gun or even a high-powered hairdryer and mold it to whatever shape we needed. However when I tried it on, it was obvious that there was no way I can adjust it to reach my mouth. See the image below. As I explained earlier, many people use a bib to move the joystick with their chin. I would have to design a new bracket and create it with my 3-D printer. I was confident that I could do that. More on that later.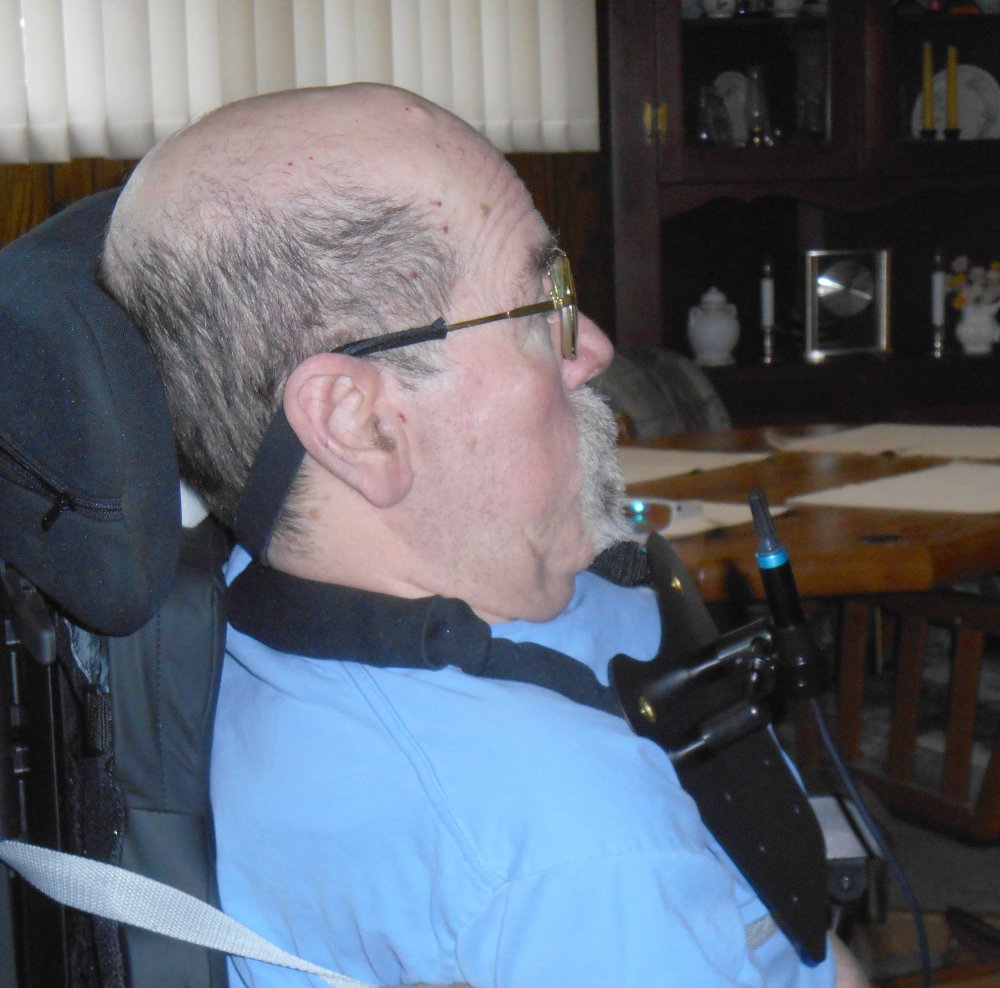 When "NO" Doesn't Mean "No"
In order to operate the recline and tilt features of the wheelchair you have to shift it out of driving mode into seat adjustment mode. You can also cycle through various driving profiles with labels such as Indoor or Outdoor. These different profiles adjust the sensitivity of the joystick and sort of modifies the power curve for whether you are a working with a smooth flat surface or running over rough ground. So in addition to the joystick you need a button called a "user button". We haven't quite figured out how I'm going to do that yet because I already have three pushbuttons in my right hand that I use to control my ultimate universal remote. I described that remote in this previous blog post. Basically it can control every TV, cable box, DVD player, computer mouse and keyboard via infrared remote and additionally has a Bluetooth connection to my iPhone to control it without having to use the touchscreen. Patrick brought with him a couple of different pushbuttons that I was going to try. There's a slim possibility that I can hold it in my left hand. When he tried to plug it in, it would turn the power off and on but would not change the mode.
We figured out how to get the display panel into "program mode" but we couldn't figure out what we needed to change to get it to recognize the button. There are 2 ports that you can plug things into. We tried switching from port 1 to port 2. There was a setting that said the mode button was set to "NO" which we figured meant "no switch". When we tried to change it to "YES" instead of saying "YES" it said "NC" which they interpreted to mean "not connected". We ended up calling tech support from the place that actually manufactures and sells the wheelchairs. They talked us through how to get the proper settings. It turns out that "NO" and "NC" means "normally open" and "normally closed" describing what type of pushbutton you have. Some buttons which are normally open when you push them it closes the circuit. You might want to use a normally closed button because the wheelchair can then detect if the button has accidentally been pulled loose from its socket. It would see any brief disconnection as the normal pushing of the button but a very long open circuit would mean that something that had gone wrong. Anyway we got the button to work but I didn't play with it at that time. I just wanted to make sure it would work for me to play with it later.
Don't Forget the Paperwork
I now it was about 4:30 PM. Aaron had another client he needed to see briefly before the end of the day so the guys had to hit the road. Patrick said that he would bring me some adjustable blocks to put on the foot rest so that they would fit my feet. He is also supposed to bring me some armrest padding to try out. There was one more thing we needed to do. Sign the paperwork. We told them a funny story about the first power wheelchair that I purchased when I was a senior in high school. I had been given a power wheelchair when I was in fifth grade but it belonged to Roberts School and they just let me use it as long as I maintained it in good shape. When I was a senior in high school and was about to graduate, we needed a new wheelchair. We purchased it from a company called Baker Brothers. When it arrived, dad and I went to their showroom to pick it up. The guy brought the chair out and then he went on dealing with another customer and doing things in the back room. Dad decided to go ahead and blow the wheelchair into the van while we waited on him come back. We waited maybe 20 minutes after that and finally dad said "To hell with this let's go." I agreed and we left. We had just gotten back in the door at home when the phone rang and they said "You had some paperwork you were supposed to sign". We told them that they should have not made us stand around all day. They brought the paperwork to us and we signed it. Things certainly have changed in the 43 years since then. This time dad signed the paperwork using a stylus on an iPad and they emailed us a copy afterwards. These days the paperwork is paperless.
After the guys left, we took a couple of photos of me sitting in the chair and I posted them to Facebook. Those first photos are the ones shown earlier in this post. In the next installment of this blog I will describe what we did that evening and the next day to work out some of the issues that still needed to be resolved.