In my previous installment I described the events leading up to the delivery of my new wheelchair and the arrival itself. In this installment we will talk about what happened over the next day or two as I try to adapt everything to my needs.
Finally I NEED a 3-D Printer
When the prices of 3-D printers began to get reasonable, I began lusting for one almost uncontrollably. The only thing that held me back with the concept that no matter how much I wanted one I didn't really have any use for one. I think that's the dilemma most 3-D printer owners face. They are cool gadgets that you just want to own. You can do lots of neat things with them. But do you really "need" one? Finally my wants outweighed my lack of needs and I indulged myself as a 60th birthday present and bought one. While I have made some useful plastic boxes for my electronics projects and made some fun toys and Christmas ornaments, I still really didn't "need" a 3-D printer until right now.
In the previous post I showed that the bib mount for the joystick was designed for chin use and not mouth use like I had planned. No amount of adjusting it was going to get the joystick up to my mouth. I was going to need to build a new bracket to reposition it. The 3-D printer with the perfect solution to this task.
After the wheelchair technicians left, we had supper and then I went straight to my office to begin designing the new bracket. As you can see in the image below, the joystick is sitting in a round socket. It is held there by a small set screw. I can remove the joystick from the socket, build a new support that fits there. Then I can mount the joystick in a new socket on top of the bracket. I also need it to be able to tilt up or down to adjust the position and angle of the joystick.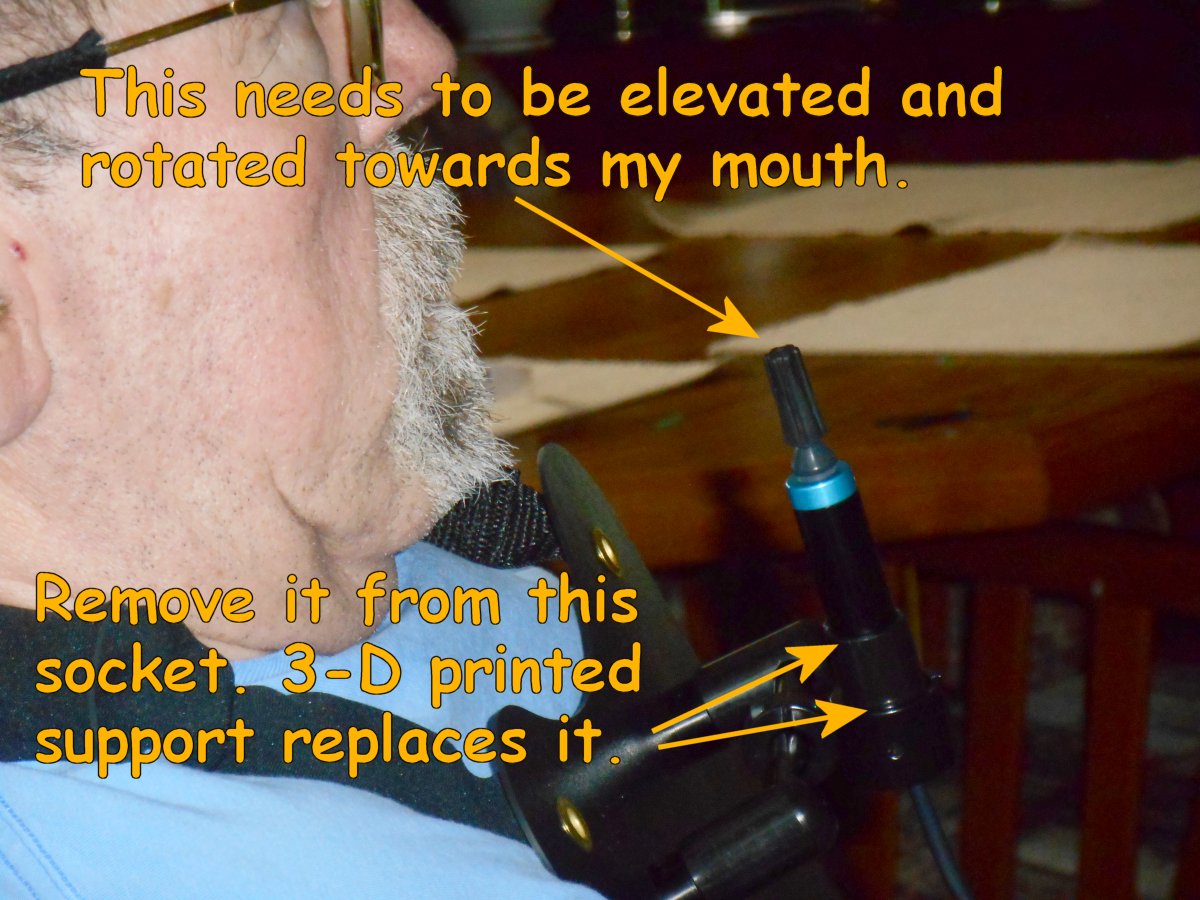 Here is what the part looks like in my CAD design program called Blender 3-D. The bracket is in two pieces. There is a long cylinder object that will fit into the socket where the joystick used to be. On top of that is a new socket to hold the joystick. It can pivot forwards and backwards and will be held to the long piece with a screw. The new socket can be tightened with a screw as well so it will grip the joystick.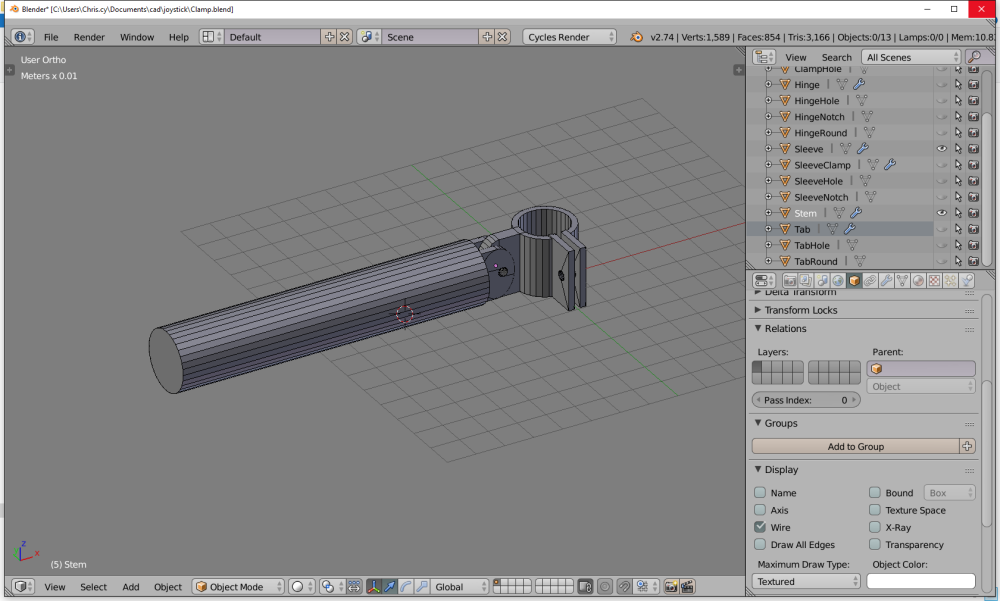 I got the design pretty much done the evening of the day the chair arrived but I didn't have time to print it. I ate my usual snack and went to bed. But it was nearly impossible to sleep thinking about all the modifications we needed to do on the chair.
"Evening came and morning followed. The first day." Genesis 1:5
Dad and I Do Our Thing
It's now Tuesday March 29 and Dad and I sort of got into our "Liam Neeson in Taken" mode. To paraphrase the movie "we are men with a particular set of skills". For my part that means putting the final touches on the CAD design for my new bracket. For dad it means getting out his power sawzall and power drill and getting to work shortening my foot rests. Because he was going to be working on the chair and we still didn't completely have the headrest and other comfort items adjusted properly, I spent the day in my old wheelchair.
When printing objects on a 3-D printer. It's best if you have a flat surface on the bottom. So the cylindrical parts of the bracket couldn't lie down on their side or they would have a flat side and they would not come out very cleanly. So the tall part of the bracket has to stick straight up in the air. It's about four and half inches long. I had never printed a tall skinny piece like this before. I was worried it would come unstuck and fall over. Fortunately it printed just fine as you can see here.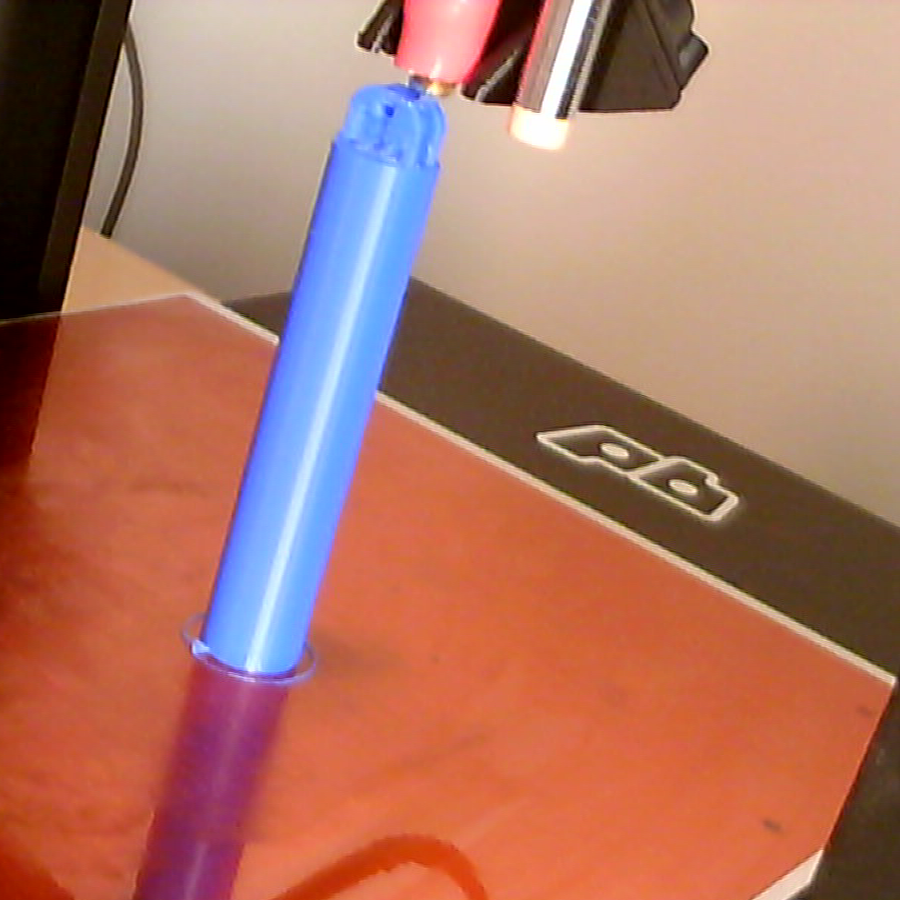 When I completed it, dad took a break and assembled my creation. Like always, you occasionally have to do a little filing or scraping objects to get them to fit together precisely but it wasn't too hard to assemble. I had made a small test piece to get the tolerances right. Here is a photo of the device assembled just like I had planned it. And below that are photos of the device sitting around my neck.
It was everything I intended to be. There was just one problem… It didn't work. Oh my bracket worked just fine. But every time I tried to move the joystick with my mouth, the entire device would wobble around. You recall from the earlier post that I had done a test drive with a bib mount that was made of a stiff metal rod that bent around my neck. It would hold the joystick very steady. This gadget was just hanging from a couple of straps. It even though we had not yet molded it to fit my funny shaped chest, I didn't have any confidence that that would stabilize it. I had seen a photo on the vendor's website that showed optional additional straps on the lower corners that went around your back. That might have stabilized it a little bit better but I really didn't like that idea and I wasn't sure it would work. So it was completely back to the drawing board. Because the metal bar device which we had tried did not come in a larger version, we would have to fabricate one from scratch. And given that we both have "a particular set of skills", that would be entirely possible.
Dad completed the work on the foot rests and we spent the rest of the evening catching up on TV.
"Evening came and morning followed. The second day" Genesis 1:8