In this installmenpurposet we will cover the third week of working on the new wheelchair. We work on 3-D printing parts for the joystick and waiting on word from the wheelchair people about my programming glitch.
S.S.D.W.
I called this installment "Groundhog Week" after the movie "Groundhog Day" in which Bill Murray repeats the same day over and over again. I sort of feel like this week is a repeat of the previous week. Better cliché title for this week is the abbreviation "S.S.D.W." There is a common saying that people often abbreviate using the letters SSDD. It stands for "Same Shit, Different Day" and is used as a way to say one's life is boring and monotonous and not particularly satisfying. When I went to write the opening paragraph for this installment of the blog I started by editing the intro from the previous installment. I realized that all I needed to do to make it accurate was to edit the words "second week" so it would read "third week". So the title of this segment is "Same Shit, Different Week".
To recap where we left off, the wheelchair is stuck in the state where only the attendant controls will work. Also I cannot get it into programming mode to undo whatever I did wrong. Meanwhile I'm redesigning the joystick mount because the one that the vendor provided will not stay steady enough around my neck. I had already designed a swing away crossbar that would go across the front of the U-shaped rod that hangs around my neck. Now I need to design something that will fastened to that and will hold the upright piece to which the joystick is mounted. I spent all day Sunday April 10th watching NASCAR and designing and printing parts.
In the image below the long cylindrical piece and clamp on the right were pieces I had already designed. The clamp on the right holds the actual joystick. The piece I worked on Sunday was the clamp on the left which will attach the entire assembly to the crossbar. It turned out I could just copy the clamp on the right and resize it. As always you can click any of the images here to see a larger version.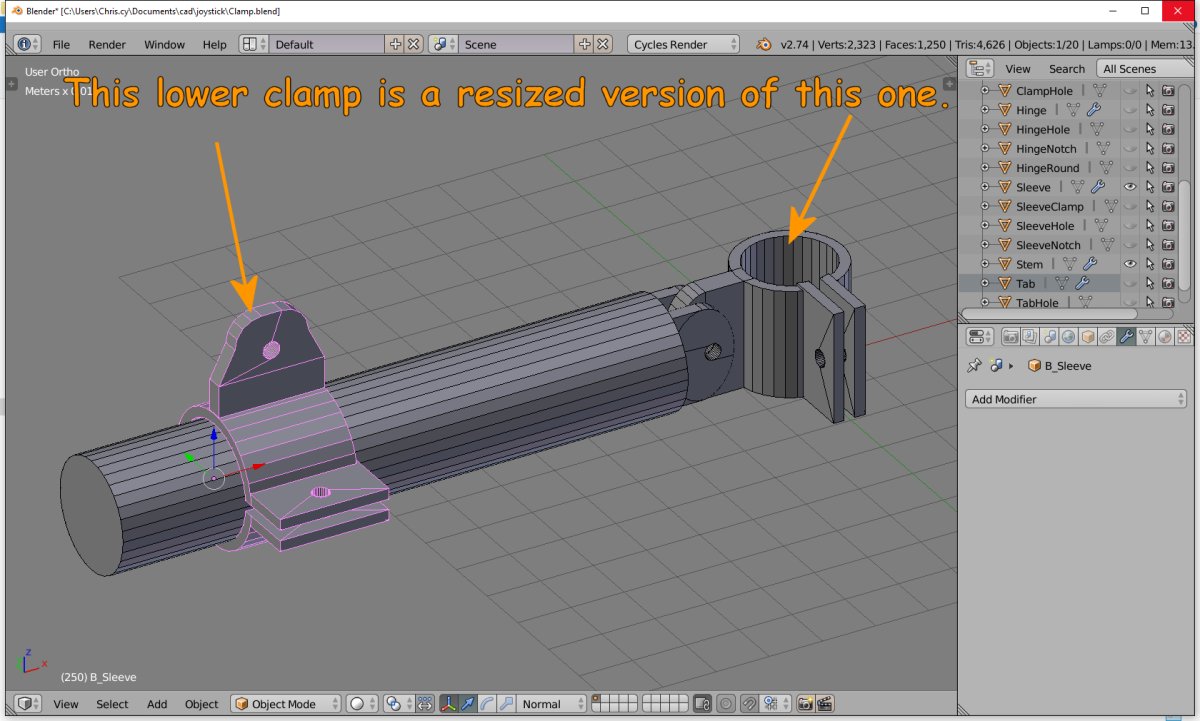 On Monday April 11 we were supposed to take the wheelchair into the shop to have them reprogram it. Unfortunately my caregiver had to cancel and dad had to get me dressed. She has had a lot of things going on in her life lately. She has a young daughter with recurring ear infections, the transmission went out on her car so she has to borrow a friend's car or get a friend to actually drive her to my house. She had been working for me for about three weeks and still had not worked the entire week without missing at least one day. She does absolutely wonderful job when she's here. Fortunately she seems to have since gotten things worked out and has not missed a day since then.
I had had second thoughts about taking the wheelchair in for repair in the first place. I kind of wanted to be there while they were working on it so I decided to not take it in but to have them come to me. They had told me they can send someone on Thursday the 13th. I had tried to get them to hold that appointment for me in case I couldn't make it on Monday because I knew my caregiver girl was a little bit unreliable lately. They had said I could just call and reschedule. They would not hold the date for me. When I called them back they said the Thursday appointment had been filled. The soonest they can get here would be Monday the 18th. Like I said… S.S.D.W. I spent the rest of Monday working on an installment of this blog.
All Printed up and Nowhere to Go
On Tuesday I finally finished all of my 3-D printing parts and we assembled the joystick mount. Here are some photos of the completed project.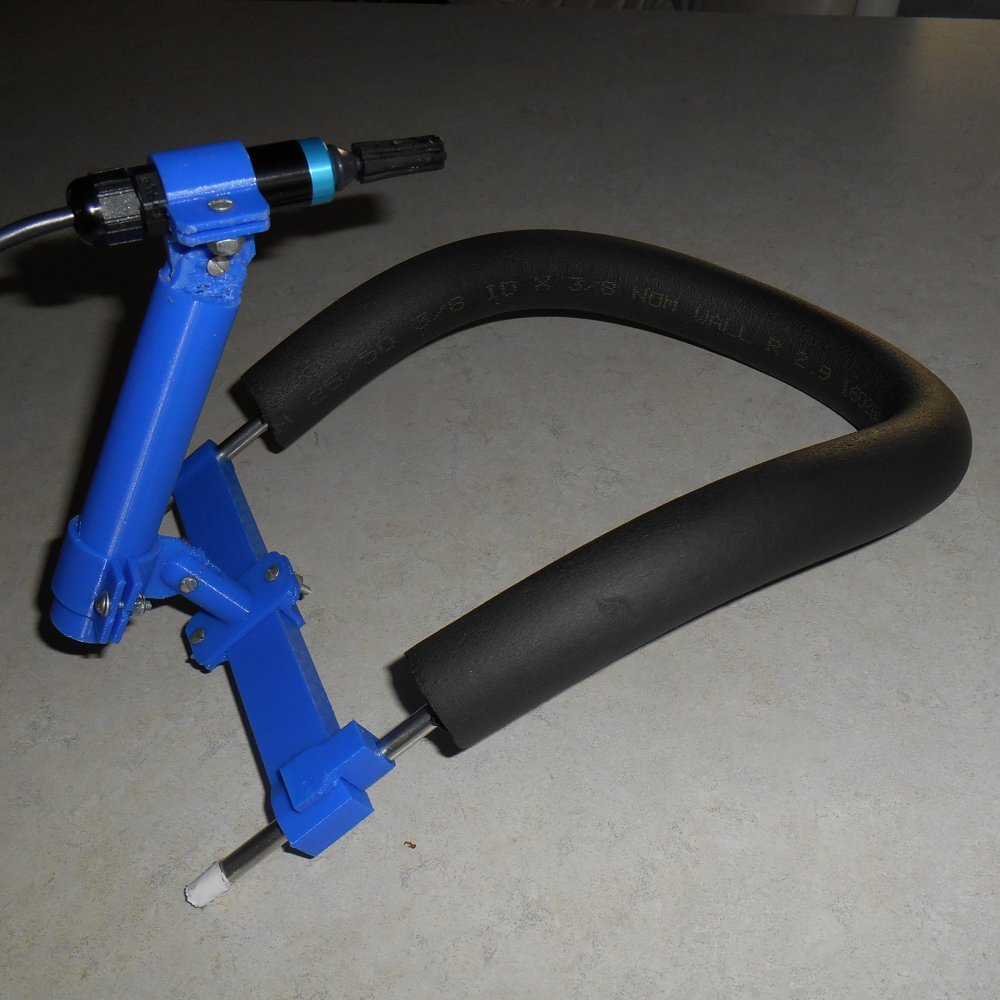 This shows the latching mechanism and how it swings open so that you can fit the device around my neck.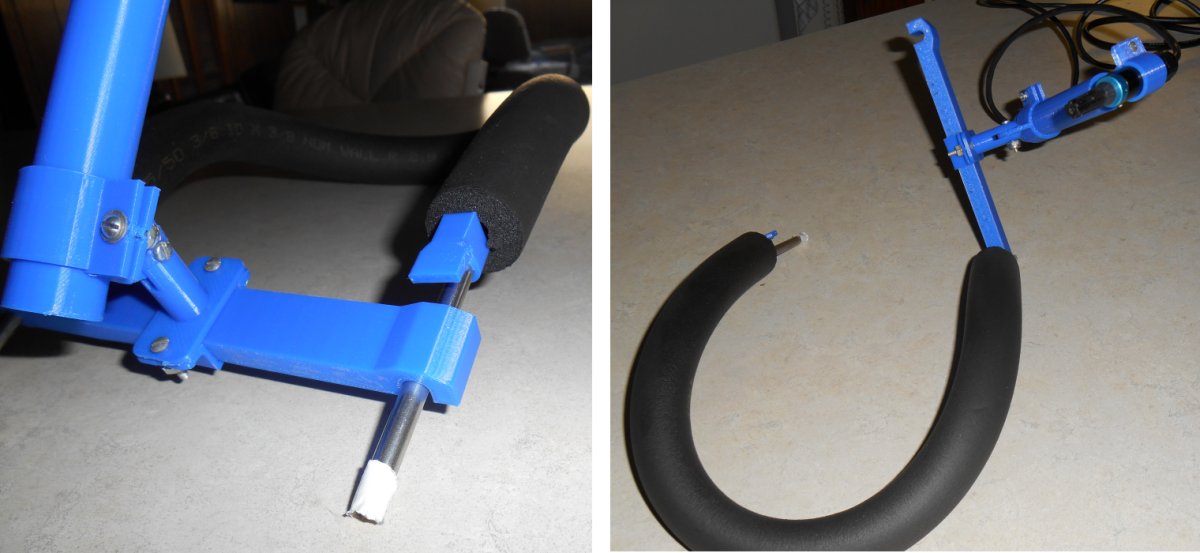 Here's what the device looks like when I wear it. Note in the background the calendar behind my head and it looks like Michonne from The Walking Dead is trying to chop off the top of my head.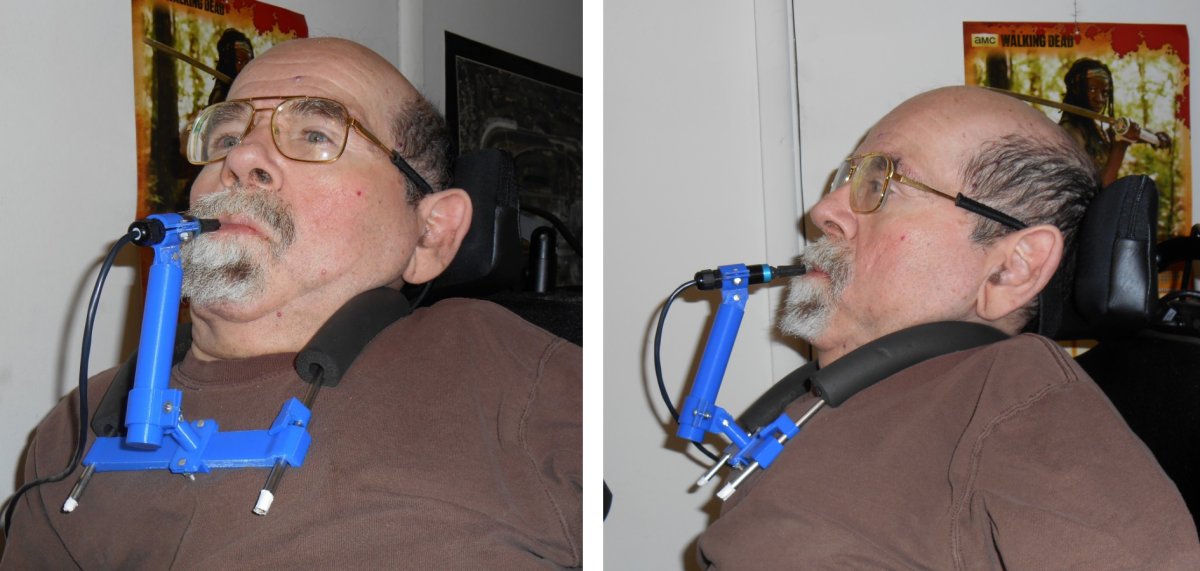 The only problem I have now was the wheelchair would only work using the attendant controls because the software was glitched. I was all dressed up… or rather all 3-D printed up… and nowhere to go.
Also on Tuesday I had my monthly visit from the nurse from my home health agency. They send someone out once a month just to take my blood pressure, temperature, and see how things are doing in general. Also on the same day by coincidence I had my quarterly visit from my caseworker from CICOA (Central Indiana Council On Aging). She helps me wade through all of my Medicaid issues and she does my case management to get Medicaid to pay for the home health aide. I was able to show them the new wheelchair but I couldn't really show off driving it which was a disappointment. I spent the rest of the day doing some Internet research to try to better understand what might be going wrong with the programming and other issues.
Going on Tilt
When playing poker and you get a bad beat, it rattles you emotionally and sometimes you start playing badly. In poker parlance this is called being "on tilt". With all the ups and downs I've had in trying to get the wheelchair to work right I felt like I was permanently "on tilt". Alternative title for this section could've been "Tilting at Windmills" considering we seem to be on a hopeless quixotic quest and getting a working wheelchair was an "impossible dream".
Clever clichés aside, the next topic actually did have to do with tilting. Most wheelchairs have some sort of little "wheelie bar" out the back of the chair to keep it from tipping over backwards. My old chair had a bar on each side with a tiny wheel perhaps the size of a skateboard wheel. The bars were easily removable and that was one of the first things that I did when I got the old chair. By removing them, it is possible to have someone tilt my chair backwards to go up a small step or a curb.
Only twice in my life do I ever recall coming close to tipping over backwards in the chair. There was one particular ramp at Market Square Arena that was way steeper than the others. Trying to go up it one time I was a little bit worried the front end of my chair was getting a little bit light. There was another time my mom was driving me up a small wooden ramp up a step at a retreat center in Culver Indiana. Halfway up the ramp she accidentally jerked the joystick a tiny bit and my front wheels raised. Fortunately she stopped quickly before I tipped over backwards. The only time I actually tipped over backwards was the day that my van lift fell and I tipped over and landed on top of my friend Judy. That's a story for another day.
I do know that even on level ground it is technically possible to get my old wheelchair to tip over. You would have to put it in high-speed, drive it backwards at full speed, and then slam it into forward at full speed. You could get it to tip backwards that way. But even when I had much better use of my hands, I was never driving it that way to begin with. Once my arms started giving out it was physically impossible for me to make such an abrupt maneuver.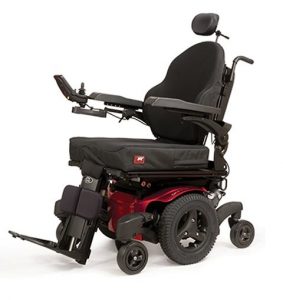 A popular design for new wheelchairs these days is what they call "mid wheel drive". The chair essentially has drive wheels that are fat tires perhaps 10 or 12 inches in diameter in the middle of the chair and then it has caster wheels in both the front and the rear. The photo on the right is a Quickie Series 7 chair (mine is a 6). Essentially the chair has six wheels. It has a strange suspension system that keeps all six wheels on the ground as you go over rough terrain. And if you have a rounded curb or an obstacle like a speedbump it will climb up or down that very easily. But to go up a square step have someone attempt to tip your wheelchair backwards for you, there's no way to do it. That's why I didn't get the Series 7 and got the rearwheel drive Series 6.
Although my new chair has rear wheels behind the drive wheels, they normally sit about a half inch off the ground. They are only to be used as an anti-tip mechanism. They have a strange retraction mechanism that appears to be spring-loaded. There is a cable running from each of the rear wheel assemblies to some sort of motor or actuator in the front of the chair underneath the seat. When we had the demo chair we couldn't figure out how it worked but we figured we would be removing these anti-tip wheels anyway. Sadly the wheelchair salesman wasn't sure how they worked either.
We did have some concern that if I was reclined, the chair I buy back might be at risk of tipping over backwards and we might need to keep them in place. We were going to have to do some experimenting before we actually removed them. As you can see in the side-by-side images below, the center of the rear wheels of my old chair were probably six or 8 inches backwards from the position of my back. But in the new chair because the wheels are smaller diameter and the way it is constructed, the center of the rear wheels is almost directly below the point where my back hits. While this new chair is heavier and the weight of the equipment is further forward under the seat than my old chair, the actual tipping point is a little more dangerous.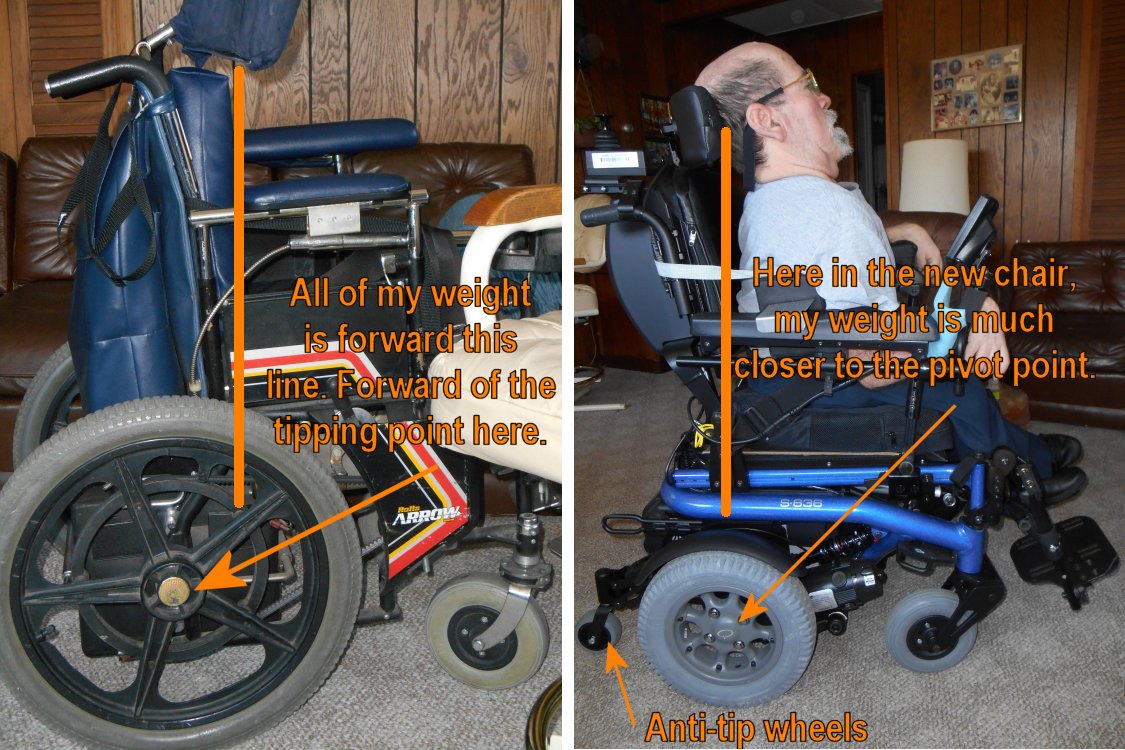 The other issue that concerns us about these rear wheels is that the chair might not fit on the wheelchair lift on my van. When we had the demo chair, I did not ride it on to my wheelchair lift but dad did try rolling it up on the lift without me. He thought that the chair would not fit with those anti-tip wheels sticking out the back. There is a metal flap that folds up behind the rear wheels to keep me from rolling off. Dad thought that the only way to get that chair to fit would be to put the flap in the space between the anti-tip wheels and the drive wheels. That would definitely be awkward and yet another reason why to remove these unnecessary wheels. The photo below shows my wheelchair sitting on the lift platform with the anti-tip wheels in front of the flap. It turned out that when we actually put me on the lift with me sitting in the chair and did some experimenting that I would fit with the anti-tip wheels in front of the flap. Unfortunately to get into that position we had to roll me so far forward that my feet would hit the bumper of the car. I actually had to slide my feet backwards on the foot rests. When sitting in my old chair I was that lower and thus my foot rest was lower and my feet would fit under the bumper when I rolled forward. Anyway even though I would fit on the lift, it was going to be a complicated process.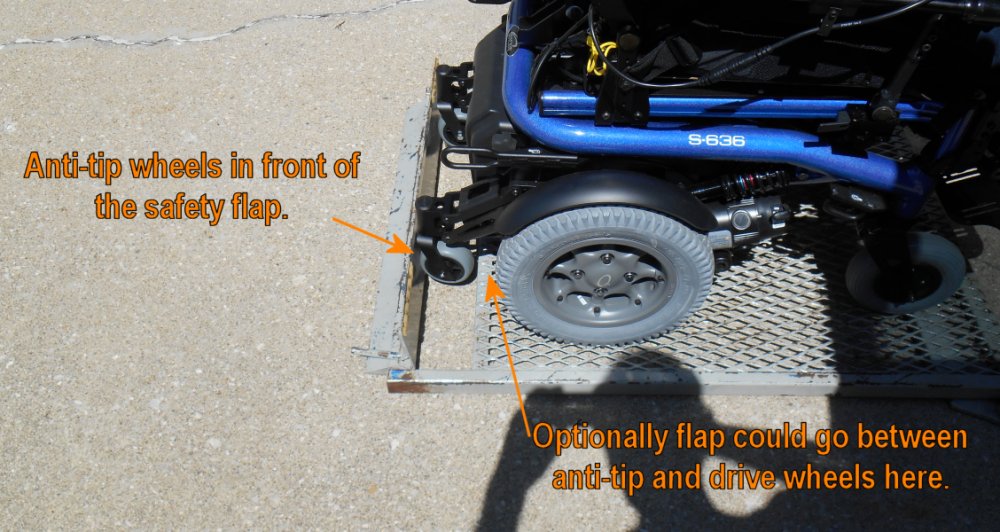 One of the things we couldn't figure out was why there was such a complicated mechanism on these wheels. It looks as though there some sort of spring-loaded suspension system and then there was this cable that runs to the front of the chair and some sort of actuator. But we couldn't figure out what activated it. We couldn't find anything of the user manual that explained it in the dealer had not been able to explain it.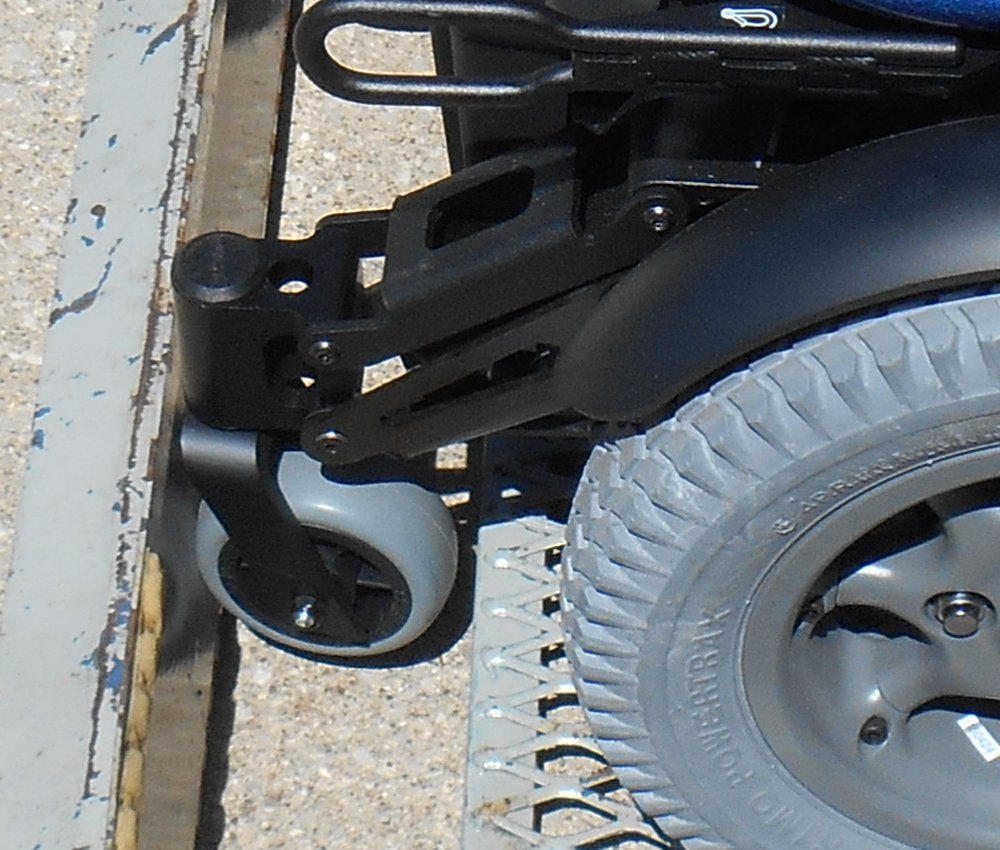 >So I got online to my new favorite go to place for all things wheelchairs, an online discussion forum at wheelchairdriver.com. I asked them if they thought it was safe to remove these wheels and what was the complicated mechanism all about. You can click here to read the thread but the gist of it is that they didn't think I should remove them. Of course these are people who are a lot more active than I am riding their chairs around on rough ground. If I have this chair when I was in my teens it was a bit of a different story. It was also interesting that the members of the forum got into a heated debate on whether or not the Quickie Series 6 was actually "rearwheel drive". One guy said it's a compromise between a mid wheel and a rearwheel with all of the disadvantages of both. I guess he wasn't a fan.
The bottom line is that these wheels are supposed to be able to flex upwards so that you can go up and down curbs and ramps. However if you recline the wheelchair, that mechanism gets locked in the down position keep you from tipping while reclined. Some people said that their anti-tip wheels were constantly touching the ground while most people said that like mine they were slightly off the ground. One guy said that his dealer made a modification with a wedge-shaped part that would adjust the height of the down position. A few days later going through some paperwork we found an addendum that explained this little extra block could be inserted but it didn't make it very clear what that little block would do for you.
Need Knowledge… Do an Experiment
When the experts can't agree and the instruction manual doesn't instruct there's only one thing to do… actually experiment. Over Wednesday and Thursday of that week we tried a number of different things. We got me on and off the van lift and I rode up and down and actually got in the van. More on that later. We drove me out to my front curb. Our curb is about 6 inches tall and is very rounded however when I was younger and rode around the neighborhood a lot I used to have trouble getting up and down it so dad poured a small concrete ramp in the center. We drove me down the ramp okay and then we tried driving up the rounded part of the curb. It had the power to get the front wheels climb up the slope but because the rear anti-tip wheels would not retract it was lifting the drive wheels off the ground. When we went back to drive up the ramp we almost couldn't get me to go. The chair would roll down the ramp okay whether the drive wheels were touching or not. When we tried to drive up again, we realized that the drive wheels were barely coming off the ground. It was just enough to lose traction. We had to get a bit of a running start to get me up curb even with the ramp. We had hoped that once the full weight of the chair was on the anti-tip wheels that they would retract a tiny bit. Unfortunately they did not. Something weird was going on because they should retract as long as I wasn't reclined any.
it was clearer than ever that the wheels were going to be in the way and severely limit my ability to go up and down even small ramps if they were sufficiently steep. We still didn't know just how tippy this chair would be because anytime we tried to tip it, the wheels would hit. It wasn't until the next day that I came up with another idea. We went back outside and parked the wheelchair on the front porch which is up about a 4 or 5 inch step from the driveway. We parked me with the anti-tip wheels hanging off of the edge of the porch into the driveway. This would allow dad to try to tip the wheelchair in a controlled manner. He tried tipping the chair back with me sitting at my normal seating position as if he were trying to take me up a curb. It seemed to him the chair was no more or less tippy than my old chair was.
Then we gave it a real test. We reclined and tilted the wheelchair all the way back and he tried to see if it would tip. He could put a lot of weight on the rear of the chair and make it tip but it didn't seem like there was any way it was going to tip by itself. Keep in mind I would not be driving the chair anywhere or be driven anywhere while in that reclined position. I wouldn't do it on uneven ground.
"Never Start 2 New Foods at Once"
The above quote is a proverb that my mom always used. She always said that when you are trying to get a baby to eat solid food or different kinds of baby food that you should only try one thing at a time. If you try 2 new foods at once and the baby has a bad reaction to it, you don't know which one was responsible. It's been a philosophy that has served me well in dozens of situations whether it was building gadgets or troubleshooting software. If you make 2 changes at once and something goes wrong then you are clueless. So even though we had come to the conclusion that it was safe to remove the rear wheels, we were not going to do it right away. I was concerned that messing with it might trigger some sort of safety mechanism and shut the chair down completely. We had already gotten in trouble when I messed with the programming. I wanted to wait until we solved the programming problems before we made any new changes to the chair. Unfortunately a few days later we did not heed the "2 new foods" rule and it got us into more trouble. But that's another story.
More Comfort Issues
Other activities of this week included padding and reupholstering the armrests. The armrests that came with the chair were very hard rubber with little or no cushioning in them. They also had a concave shape on the top surface which would be great to keep your arm in place if you lay your arm absolutely parallel with the length of the armrests. However I like to keep my arm sometimes at somewhat of an angle and so the edges of the concave shape dig into your arms. I had been referring to them as "an armrest only a quadriplegic could love". We had been putting a pillow under my arm but then as an experiment we cut a piece of foam and put it on the armrest with duct tape. After a few days I decided that was the right height for a permanent solution. Dad went out to the fabric store in Avon and purchased a few square yards of dark blue Naugahyde upholstery material and made covers for the foam.
We also came up with a temporary solution for had to mount my ultimate remote control and my iPhone. I used to have a gadget that was an aluminum bar that would fastened to the upright portion of my armrest. We had two of them in fact. One of them held an easel on which I can put books or papers. I would use it if I was giving a speech somewhere and didn't have a table in front of me. I had used it at Enneagram seminars and some RCIA classes. I also had a similar manner for my video camera when I used to hang out at the Speedway and shoot video in the garage area. I no longer had used for either of these so we repurposed the swingarm part of it by cutting a slot in the end that would hold my iPhone bracket from the other chair. The upright pipe on the armrest is a different diameter so dad had to do some cutting and grinding but we got it to work. The iPhone bracket itself will probably get redesigned into a simpler form that will probably hold the iPhone a tiny bit higher but for now it's good enough. We are thinking about possibly moving the LCD display from the right arm rest of the wheelchair onto this adapted swingarm. The display currently is not in a very useful position and I can't really see it where it's at. Anyway it was great to be able to use my TV remote and my iPhone again.
After being so frustrated with the wheelchair, I needed to take a break so I took a day off from working on it to play with a raspberry pi. I mentioned in a previous post that I was replacing an old raspberry pi model 1 B with a newer model 2 and giving the old one to my friend Buz who lives in Michigan. Fortunately getting the old one running for him went much smoother than setting up the new one for me. After getting it ready here, I mailed it to him and the following week we got together on Skype and I talked him through how to set it up. It was a lot of fun connecting with an old friend. We will probably do more Skype in the near future.
Saturday I planned to go to church and as we had not yet gotten a hold down straps installed in the van I had to sit in the old wheelchair. I couldn't believe how uncomfortable I was all day long. The new chair really had me spoiled.
On Sunday the 17th I spent the day watching NASCAR and IndyCar and working on the blog. Hopefully next week would be a both better week. The repair man was scheduled to come on Monday. That would also be my dad's 81st birthday. Hopefully it would be a really good day.
There is one other incident during the week on Thursday April 14 that I need to blog about but it doesn't really have anything to do with the wheelchair. It was something of a more personal nature which belongs on my personal blog rather than my technology blog (even though technology is very personal for me). You can read the story on my personal blog here. So that wraps up the third week after my new wheelchair arrived.